Tutorial by HEATHER ( http://thesewingloftblog.com/printing-on-fabric/ )
Have you ever worked on a project and wanted to have a special something printed directly on matching fabric? Well today, I'm going to share an easy tip that will have you printing on fabric at home. That's right, directly from your home computer!
There are four key ways to print directly on fabric from your home computer. Each requires you to cut the fabric to size. Let me explain each option and then give you a brief tutorial. The instructions will work for all methods of printing on fabric.
Fabric Stabilizing Options:
–Freezer paper– This standard household kitchen item has many talents in our work space but if you are located outside of the US, it might be hard to find. Amazon.co.uk has it and delivers almost everywhere in Europe
–Office stickers– Full size sticker sheets are available at your local office supply store.
–Paper backed fusible– My personal favorite is Heat n Bond Lite by Thermoweb.
–Printable fabric sheets– We have chatted about these before. You can purchase them on-line or at your local sewing supply store.
–Spray adhesive and card stock- This method requires the most work on your end but will work in a pinch. Spray the adhesive onto the card stock, position on wrong side of fabric and cut fabric to size.
Supplies:
8 1/2″ x 11″ fabric
8 1/2″ x 11″ fabric stabilizer of choice (see above list)
Tools:
Basic Instructions:
1. The first thing you need to do is select a fabric stabilization method. After you determine which method to use follow these basic instructions for printing on fabric.
2. Apply the stabilizer to the wrong side of fabric and cut the fabric to size.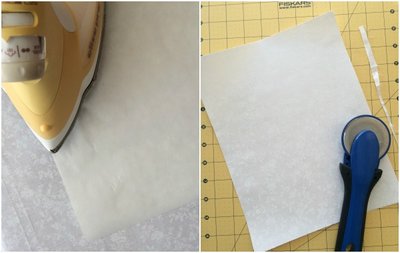 3. Place in your printer. Be sure to check your printer and make sure the fabric is position properly for ink. Otherwise, you will need to flip it over and do it again. (Don't laugh, I've done it!)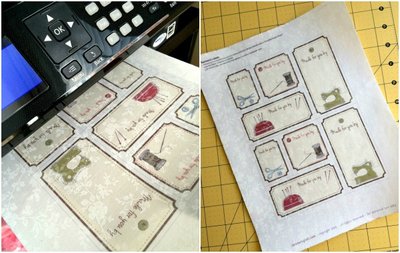 4. Cut your image to size, peel away the stabilizer and use printed fabric as planned.
Fantastic and easy to follow tutorial - THANK YOU HEATHER!
<3
Happy crafting!