DARE2WOW
Textile Heritage. From the wooden loom weaving to digital art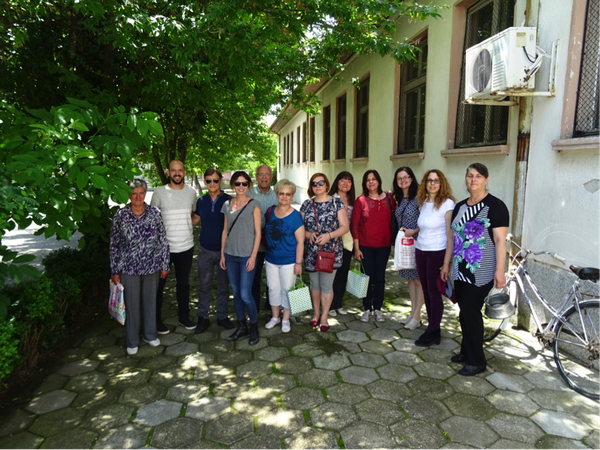 Erasmus + is the EU's programme to support education, training, youth and sport in Europe.
With our project "Textile Heritage. From the Wooden Loom Weaving to Digital Art", Dare2wow, we want to foster inter-generational and international communication and peer learning through the understanding and appreciation of our textile cultures, from the ancient traditions to the most innovative production systems and create awareness of the importance of cultural heritage and diversity, celebrating creativity, developing skills and transmitting values.
The aim of the project is to design a curriculum for a course that can be relevant to all participants and create an online platform with learning activities.
It is an opportunity for cooperation, for innovation and the exchange of good practices, in a programme designed to modernise and reinforce education and training in the different organizations, which are:
********************************
Con nuestro proyecto "Patrimonio textil. De los antiguos telares al arte digital", Dare2wow, queremos fomentar la comunicación intergeneracional e internacional y el aprendizaje entre iguales a través de la comprensión y apreciación de nuestras culturas textiles, desde las tradiciones antiguas hasta los sistemas de producción más innovadores y crear conciencia sobre la importancia del patrimonio cultural y la diversidad, celebrando la creatividad, desarrollando habilidades y transmitiendo valores.
El objetivo del proyecto es diseñar un plan de estudios para un curso que pueda ser relevante para todos los participantes y crear una plataforma en línea con actividades de aprendizaje.
Es una oportunidad para la cooperación, la innovación y el intercambio de buenas prácticas, en un programa diseñado para modernizar y reforzar la educación y la capacitación en las diferentes organizaciones.
********************************
Il progetto "Heritage Textile, dalla tessitura con telaio in legno all'arte digitale", Dare2wow, intende promuovere la comunicazione inter-generazionale e internazionale oltre all'apprendimento tra pari, attraverso la comprensione e l'apprezzamento delle nostre culture tessili dalle antiche tradizioni ai sistemi di produzione più innovativi. Vuole, inoltre, sensibilizzare l'importanza del patrimonio culturale e della diversità, valorizzando la creatività, sviluppando le abilità e trasmettendo dei valori.
L'obiettivo del progetto è quello di elaborare un curriculum per un corso che possa essere rilevante per tutti i partecipanti e creare una piattaforma online con attività di apprendimento.
È un'opportunità per la cooperazione, l'innovazione e lo scambio di buone pratiche, in un programma destinato a modernizzare e rafforzare l'istruzione e la formazione nelle diverse organizzazioni, quali:
********************************
Με το πρόγραμμά μας «Κλωστοϋφαντουργική κληρονομιά από το ξύλινο αργαλειό στην ψηφιακή τέχνη», το Dare2wow, θέλουμε να προωθήσουμε τη διαγενεακή και διεθνή επικοινωνία και την αμοιβαία μάθηση μέσω της κατανόησης και της εκτίμησης των κλωστοϋφαντουργικών μας κουλτούρων, από τις αρχαίες παραδόσεις έως τα πιο καινοτόμα συστήματα παραγωγής και να συνειδητοποιήσουμε τη σημασία της πολιτιστικής κληρονομιάς και της διαφορετικότητας, να γιορτάσουμε τη δημιουργικότητα, να αναπτύξουμε δεξιότητες και να μεταδώσουμε αξίες.
Σκοπός του έργου είναι να σχεδιαστεί ένα πρόγραμμα σπουδών για ένα μάθημα που μπορεί να είναι σχετικό με όλους τους συμμετέχοντες και να δημιουργήσει μια ηλεκτρονική πλατφόρμα με μαθησιακές δραστηριότητες.
Πρόκειται για μια ευκαιρία συνεργασίας, καινοτομίας και ανταλλαγής καλών πρακτικών σε ένα πρόγραμμα που αποσκοπεί στον εκσυγχρονισμό και την ενίσχυση της εκπαίδευσης και της κατάρτισης στους διάφορους οργανισμούς, οι οποίοι είναι:
********************************
С настоящия проект "Текстилно наследство - от дървения стан до дигиталното изкуство" (Dare2Wow), искаме да насърчим междугенерационното и международно общуване и обучение на малки и големи, да могат да разберат по-добре и оценят нашата текстилна култура от древните традиции до най-модернити иновации - да създадем едно общо културно наследство, което празнува разнообразието и творчеството, развива уменията и предава ценностите от едно поколение на друго.
Целта на този проект е да разработи учебна програма за извънкласна дейност, заедно с онлайн платформа с практически занимания, които да бъдат съвместими с възможно най-широк кръг участници.
Това е също и една прекрасна възможност за сътрудничество, обмен на иновации и добри практики в сферата на модернизиране и укрепване на образованието и обучението на партниращите си тук организации, които са:
********************************
Adult education centre EPA de Ourense, Galicia, Spain
IPSIA Luigi Cremona Pavia, Lombardy, Italy
Istituto professionale statale per i servizi aziendali, turistici, grafici, sociali e alberghieri L.Cossa, Pavia, Lombardy, Italy
Bulgara Centre for Development, Yambol, Bulgaria
AETOI THESSALONIKIS, Thessaloniki, Greece
SISU Consulting, Surrey, United Kingdom
Biedriba "Islices sieviesu klubs "Ritausma", Bauskas novads, Latvia